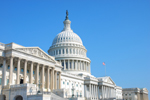 On Sunday, the Senate version of the health care reform bill passed in December comes up for a vote in the House of Representatives. Many journalists, political analysts, and politicians believe that the outcome of Sunday's vote will either make or break the Obama presidency. If the bill fails news outlets from NPR, CNN, Fox News and others are reporting that President Obama, as well as the entire Democratic Party, will be significantly weakened.
If one needed validation of what is at stake, President Obama has delayed a trip to Asia in order to rally those in the Democratic Party who are still undecided or still opposed to the health care reform bill. With the Obama Administration tying the health care reform bill so closely to his party, Democrats in opposition may have no choice but to vote yes or else see their overall influence and reputation greatly diminished with a failed bill despite a large majority.
Rep. Dennis Kucinich (D-OH), who previously voted no in November, will now vote yes after having four meetings with the President. Mr. Kucinich stated "You do have to be very careful that the potential of President Obama's presidency not be destroyed by this debate," he said. "Even though I have many differences with him on policy, there's something much bigger at stake here for America."
According to Mara Liasson at NPR, President Obama is also telling Democrats in opposition to health reform that despite their no vote, Republicans will still tie them to a failed bill and the Democratic base will exile them. With such political arm-twisting, it will be interesting to see which Democrats have the gall to remain in opposition.
For those of you who would like to read the actual bill, you can find it here: http://i2.cdn.turner.com/cnn/2010/images/03/18/health.care.pdf
Sources: NPR, Fox News, CNN