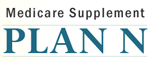 Over the next few weeks, we will be receiving rate information for Medicare Supplement Plans M and N from our carriers. Of the two new plans, Plan N is shaping up to be one of the most attractive and popular insurance products on the market.
As many of you know, one of the biggest reasons seniors don't or can't get a Medicare Supplement is due to cost. Plan N has been designed to be a cost-effective solution that competes directly with Medicare Advantage plans. We believe many cost-conscious seniors will gravitate towards Plan N, as it offers the stability and standardization of a Medicare Supplement at a price point that is 25%-35% cheaper than the comprehensive and popular Plan F. Thus, Plan N is a perfect alternative to Medicare Advantage because it allows you to increase your customer base and further elevate your income stream. This incredible combination of lower price and higher accessibility is going to make Plan N the choice for most seniors in 2010, especially those who are healthy and don't often need medical care.
The primary reason why Plan N is more affordable is because it requires clients to share the cost of their treatment, much like a Medicare Advantage plan. Unlike a Med Advantage plan however, Plan N has no network restrictions and much lower out-of-pocket liabilities to the client. Plan N is different from what is traditionally expected from a Medicare Supplement plan, these new benefit changes now make Medicare Supplements much more accessible to lower income seniors and more attractive to those who are healthy and wouldn't otherwise see the need for one.
Though Plan F is currently the most popular Med Supp plan because it offers the most comprehensive coverage for the money, we think Plan N represents the future of Medicare. Medicare can't continue to shoulder the entire cost burden of rising medical costs and a huge boom in the senior population over the next decade. If there is still going to be a Medicare in the future, CMS is most likely going to structure future plans so that seniors are going to have to share in financing their healthcare.
To obtain the new Modernized plans for your state with the addition on Plans M & N, Click Here