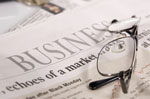 With 2009 coming to a close and a brand new year filled with many changes and opportunities just around the corner, it's a good time to review the strategic objectives of your organization. Is there significant variation between actual performance and your initial baseline? Do any changes need to be made to existing processes? What are realistic 2010 expected values for apps written, leads generated, and retained customers? These are just a sample of questions we all must ask ourselves when evaluating where we've been in 2009 and where we want to be in 2010.
That said, it's also a good time to refer to some great resources for brainstorming new strategies or tweaking existing ones. One great reference that I highly recommend for your holiday reading list is the book The 22 Immutable Laws of Marketing by Al Ries and Jack Trout. Those of you with formal marketing education most likely have the laws engrained in memory by now, as the book is a staple of marketing classes at universities. The book is getting long in the tooth (1993), but its laws are timeless. Here are the 22 marketing laws you need to know:
1. It is better to be first than it is to be better.
2. If you can't be first in a category, set up a new category you can be first in.
3. It is better to be first in the mind than to be first in the marketplace.
4. Marketing is not a battle of products, it's a battle of perceptions.
5. The most powerful concept in marketing is owning a word in the prospect's mind.
6. Two companies cannot own the same word in the prospect's mind.
7. The strategy to use depends on which rung you occupy on the ladder.
8. In the long run, every market becomes a two horse race.
9. If you are shooting for second place, your strategy is determined by the leader.
10. Over time, a category will divide and become two or more categories.
11. Marketing effects take place over an extended period of time.
12. There is an irresistible pressure to extend the equity of the brand.
13. You have to give up something to get something.
14. For every attribute, there is an opposite, effective attribute.
15. When you admit a negative, the prospect will give you a positive.
16. In each situation, only one move will produce substantial results.
17. Unless you write your competitor's plans, you can't predict the future.
18. Success often leads to arrogance, and arrogance to failure.
19. Failure is to be expected and accepted.
20. The situation is often the opposite of the way it appears in the press.
21. Successful programs are not built on fads, they're built on trends.
22. Without adequate funding, an idea won't get off the ground.
The laws may not easily be understood at first glance, but contemplate on them you'll see their application to your business in time. For those of you interested in learning more, the book provides more details and excellent examples of each law. Keep these laws in mind and 2010 will be that much more fruitful for you and your business.
Weekly Recap:
Mutual of Omaha Companies News:

• 2010 Medicare supplement modernized plans now available. The official release date was December 01, 2009 and applies to new business effective on or after June 1, 2010. Contact your marketer for the approved outlines of coverage and other information.

• United of Omaha Med Supp has approved unisex rates for Texas. This takes effect as of January 1, 2010.

• United of Omaha's Medicare supplement in Georgia has been approved. This product will release on December 9, 2009.
Health Care House Bill v.s. Senate Bill: NPR has an excellent comparison chart showing the differences on how each addresses key issues. Check it out here.
Medicare.gov Launches Hospital Compare: This tool allows you to find information on how well hospitals care for patients with certain medical conditions or surgical procedures, and results from a survey of patients about the quality of care they received during a recent hospital stay. Click here to view it.