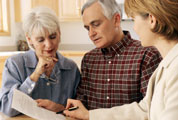 As many of you already know, Medicare's Annual Open Enrollment begins November 15 and will last until the end of the year December 31. The Centers for Medicare & Medicaid Services this week released the final $6.3 million of a total $49.6 million in total funding allocated for State Health Insurance Assistance Programs (SHIPs).
SHIPs use this money to fund local community programs that provide personalized help to Seniors who want to know more about Medicare and other health insurance information. SHIP programs are expected to focus heavily on less fortunate Seniors who typically have little knowledge of the Medicare system and the benefits they are entitled to. For more information on the SHIPs in your state, click here.
For this open enrollment season many in the industry expect to see an increase in Medicare supplement enrollments due to several changes to Medicare Advantage that will occur in 2010. MA beneficiaries can expect to see an average premium increase of nearly 22% (a $7 increase to $39/month). Despite the increases, CMS states that roughly 87% of Medicare beneficiaries will still have access to a MA plan that doesn't require a premium. Additionally, CMS expects 7% of MA beneficiaries will have to choose a new health plan or a Medicare supplement as their plans (typically PFFS and low enrollment plans) will be discontinued at the end of this year.
CMS will also increase its oversight of Medicare marketing activities. There are now stronger rules governing the commissions that can be paid to independent sales agents and how MA plans identify themselves. CMS will significantly increase its secret shopping activities, including individual marketing sessions. So we advise that you be extra vigilant in your compliance efforts this season. Mutual of Omaha has already published its disenrollment guidelines, which you can check out here.
As usual, Seniors will have access to www.medicare.gov and 1-800-MEDICARE this season. Of course, these are good resources for agents such as yourself, if only to ensure that your information aligns with the official source. For all open enrollment related information, click here.
As always, we'll keep you updated with the latest news and product information to help make this open enrollment season a successful one for your organization.
Sources: CMS, Senior Journal