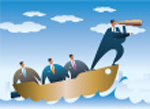 On Wednesday, Dr. Donald Berwick was chosen by President Obama to head the Centers for Medicare and Medicaid Services (CMS). Dr. Donald Berwick is a Harvard Medical School professor and president of the Institute for Health Care Improvement (IHCI). The recess appointment by President Obama ends a four-year period without an official director for CMS. It also allows President Obama and Dr. Berwick to avoid the normal nomination process that would have entailed an onslaught of questions from Republicans.
According to the Boston Globe, "appointments made during official congressional breaks do not require a vote." President Obama took further advantage of the break by appointing two other director positions for other government agencies. Of course, Republicans are expressing their outrage at what they believe is an exploitation of the political process. According to The Hill, Republicans are questioning Dr. Berwick's industry ties, as his IHCI organization received millions in gifts from undisclosed donors in 2009.
Second Round of Doughnut Hole Checks Sent to Seniors
Over 300,000 seniors will get a $250 check from the government to help close the Medicare prescription drug coverage gap known as the "doughnut hole." This second round of checks is going to seniors who entered the coverage gap between April and June and were not able to receive low-income subsidies. The first batch of 80,000 checks was sent in June and according to a Department of Health and Human Services press release, "About 70 percent of the checks were cashed within a week." The checks are a result of the agreement between Congress and the pharmaceutical industry to close the "doughnut hole."
Health Affairs Releases Brief on Medicare Doc Reimbursement Issue
Health Affairs released an excellent document analyzing the Medicare Doctor reimbursement issue. The document looks at the history of the issue, as well as the current situation. The most interesting parts however, are the forecasts it makes and the options it identifies. One statement made in the report is especially eye catching. The report states that if Medicare rates are frozen through 2014, it could add $89 billion to the federal deficit. We highly recommend reading the report if you are interested in learning more about the issue. You can view the document here.
Sources: KHN, Boston Globe, New York Times, The Hill