In its annual Data Book report, MedPac's exhaustive 206-page report on All Things Medicare addresses pretty much anything and everything you ever wanted to know about Medicare. Such as: the Congressional Budget Office projects nearly half of all Medicare beneficiaries (47%) will be in a Medicare Advantage plan by 2029; Medicare paid M/A plans about $230 billion in 2018 to cover Part A and Part B services for M/A enrollees; the number of M/A plans from which beneficiaries may choose in 2019 is higher than at any time since 2012; in 2019, beneficiaries may choose from an average of 23 M/A plans operating in their county.
Medicare Advantage Enrollment: 2003-2019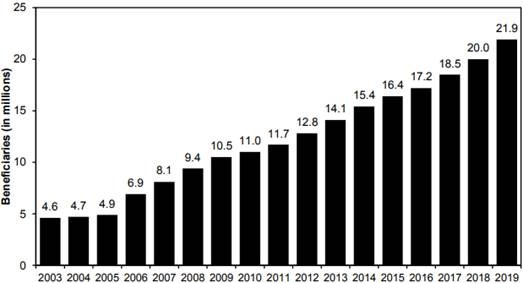 In 2017, 88% of Beneficiaries Were Enrolled in Part D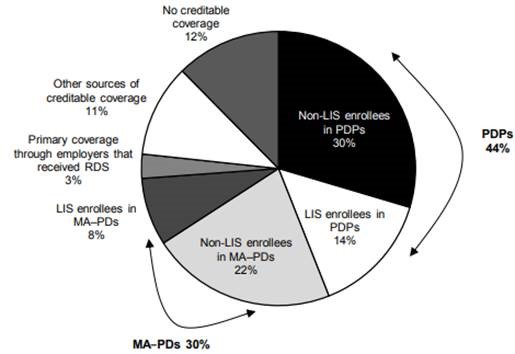 In 2017, more than three-quarters of Medicare beneficiaries either signed up for Part D plans or had prescription drug coverage through employer-sponsored plans. Other enrollees in stand-alone PDPs accounted for 30% of all Medicare beneficiaries. Another 22% of beneficiaries were enrolled in MA–PDs and did not receive low-income subsidies.
Additional Updates: