ACA Enrollment Rose a Bit in Early 2020
As of March 15, 202010.7 million consumers had effectuated coverage through the Exchanges for February 2020, meaning that they selected a plan, paid their first month's premium, if applicable, and had coverage in February 2020.

This number represents approximately 94 percent of consumers who made plan selections during the 2020 Open Enrollment Period (11.4 million).

Although the number of plan selections through the Exchanges were approximately equal in the 2019 and 2020 Open Enrollment Periods (OEPs), a greater number of consumers had effectuated coverage in February 2020 compared to February 2019, as of March 15 of both
years.

Total effectuated enrollment for February 2020 increased by approximately one percent from total effectuated enrollment for February 2019.

The average total monthly premium for Exchange enrollees in February 2020 was $576.16, a decrease of three percent from the February 2019 average premium of $594.17.

Approximately 9.2 million, or 86 percent, of Exchange enrollees in February 2020 received APTC, which represents a decrease of approximately 1 percentage
point from the share of Exchange enrollees who received APTC in February 2019.

The average monthly amount of APTC per enrollee receiving APTC fell by approximately four percent from February 2019, to $491.53.

The numbers reported today may be revised in future months as additional data on new effectuations, terminations, and cancellations become available. Later this year, CMS plans to publish effectuated enrollment data for the first six months of 2020, which will include updated February 2020 enrollment data.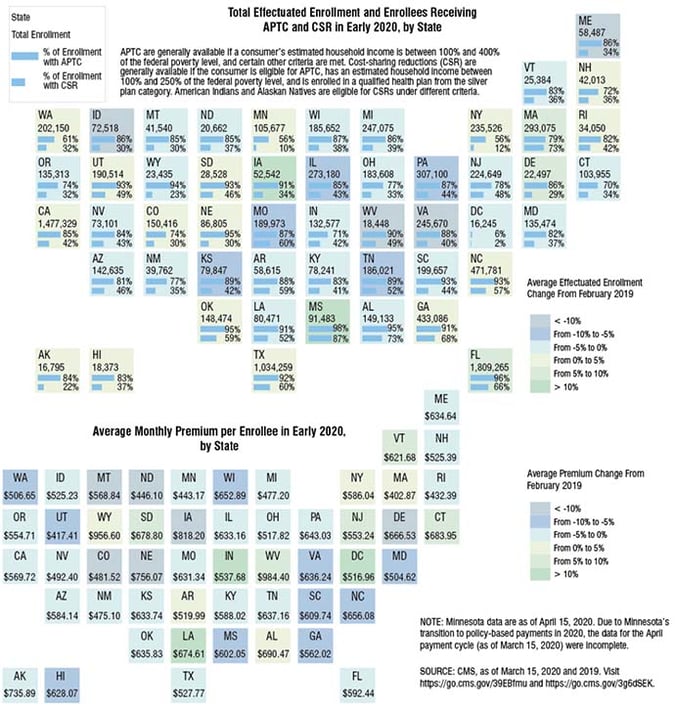 Source : https://go.cms.gov/39EBfmu, https://go.cms.gov/3g6dSEK.
Infographic: https://aishealth.com/health-plans/effectuated-aca-exchange-enrollment-rises-slightly-in-early-2020-2/