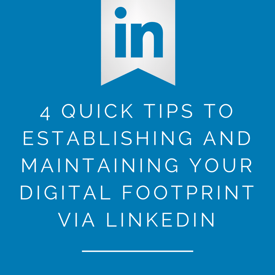 "You will never get a second chance to make a first impression." - Will Rogers
With all of the technology in this day and age, you probably wouldn't need to be physically present to make a first impression. Go ahead - Google yourself. Did you stumble across your LinkedIn Profile as the first or second result? Me too.
All thanks to LinkedIn's SEO efforts, this means your prospective clients are getting to know some bits and pieces prior to even shaking your hand and looking into the whites of your eyes.
Hence, it is more important than ever before that your LinkedIn Profile makes a positive first impression and a lasting one, at that. To help build out the most basic parts of your LinkedIn Profile, Precision Senior Marketing is here to share 4 quick tips to establishing and maintaining your digital footprint via LinkedIn. Take a peek!
1. Upload a professional headshot
Your headshot is one of the most essential elements in establishing your LinkedIn profile. In fact, your profile is 14x more likely to be viewed by simply having a profile picture in-place and will encourage viewers to peep the rest of your profile.
2. Develop a professional tagline
Ask yourself, how would you would answer the question, "What do you do for a living?"
Instead of ending the conversation quickly by responding with a mere, "I'm an independent insurance agent," you should go more in-depth concerning what you actually do. Think of your tagline as a mission statement - something along the lines of: "Educating the senior market to make informed decisions around their healthcare needs". It is far more intriguing.
3. Provide a summary
Start with your value proposition
Utilize the first paragraph of your LinkedIn Profile summary to provide a quick, high-level overview of the type of work you do - without all of the details. This is not the place for senior market insurance industry jargon.
Add humanity
Following your value proposition, you have the chance to make a real connection with your prospects by showing your human side in the second paragraph. Write your LinkedIn Profile summary as you speak rather than in third person. Reflect and ask yourself, "What do my clients and I have in common?"
Shared interests
Shared values
Sense and pride within community
Volunteering experience
Volunteering opportunities
Supported organizations
Implement a call-to-action
Wrap up your LinkedIn Profile summary by making it easy for your connections to find your contact information by adding it to the closing paragraph.
For example, "If you want to learn more about how I can help you choose a healthcare plan that best suits your needs, feel free to reach out via phone at + 1 (800) 998-7715 or e-mail at ccallahan@psmbrokerage.com."
4. Customize your public profile URL
Your LinkedIn Profile will be much easier to share upon customizing your Public Profile URL. Instead of a default URL with a oodles of confusing numbers at the end, customize it to something with a nice and clean look, like this: http://www.linkedin.com/in/carolinekcallahan.
Customize your LinkedIn Public Profile URL by clicking the gear icon to update your public profile settings beneath your profile photo.
This will redirect you to your Public Profile page, where you may edit your URL on the left hand side.

When utilizing these basic four tips, just remember to stay within your company's compliance guidelines when making updates to your LinkedIn Profile.
If you are an independent senior market insurance agent needing further direction upon establishing and maintaining your digital footprint via LinkedIn, feel free to give PSM's expert team of marketers a buzz at + 1 (800) 998-7715.
Sources: www.lifehealthpro.com, www.linkedin.com

Additional Updates: