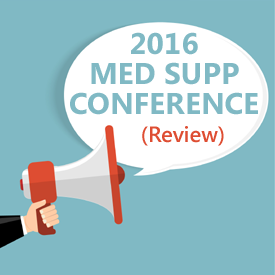 The CSG Actuarial team attended the 2016 Medicare Supplement Insurance Summit in Kansas City, MO last week. Their actuaries had the opportunity to present on the status of the Medigap market, and trends they anticipate will impact the industry. Copies of their presentations are available for download below.
The Medigap Marketplace: Where are We Today, Trends to Watch for Tomorrow
Doug Feekin, ASA, MAAA Principal & Consulting Actuary
Looking Ahead to 2020: Insights from an Actuarial Perspective
2016 Med Supp Conference: Looking Ahead to 2020
Andrew Ryba FSA, MAAA and Jared Strock FSA, MAAA
As an added benefit at this year's conference, all sessions were filmed. In the coming weeks, recordings will be available online for free to all. Be sure to visit www.medicaresupp.org to see presentation details in the program, and watch for video sessions to be posted.
Source: https://www.csgactuarial.com/2016/04/2016-medicare-supplement-conference-review/
Image courtesy of Freepik

Additional Updates: