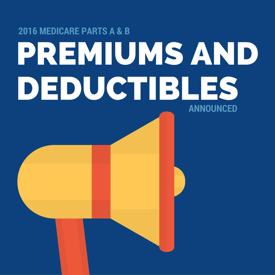 On Tuesday, the Centers for Medicare & Medicaid Services (CMS) announced the 2016 premiums and deductibles for the Medicare inpatient hospital (Part A) and physician and outpatient hospital services (Part B) programs.
Lucky for you, Precision Senior Marketing has taken the time to put together the following infographic summarizing what your senior clients can expect in result from the adjustments made via the Bipartisan Budget Act singed into law by President Obama last week.
P.S. Don't be too shy to share this infographic with your clients by positing it to your Facebook page :)
Medicare Part B Premium and Deductible
Most Medicare Part B beneficiaries are immune from any increase in premiums in 2016 and will pay $104.90, which is the same monthly premium they paid last year
30% of beneficiaries not subject to the "hold harmless" provision will pay an increased Medicare Part B monthly premium of $121.80
The annual deductible for all Medicare Part B beneficiaries will be a flat rate of $166.00
Medicare Part A Deductible
Beneficiaries will face a 2% increase in Medicare Part A deductible and coinsurance amounts for inpatient hospital, skilled nursing facility, and some home health care services in 2016
Premiums for Medicare Advantage and MAPD plans already finalized are unaffected by this announcement.
Find the original press release from CMS here!
Sources: www.cms.gov

Additional Updates: